Escape Classes With Off-Campus Experiences
This article originally appeared on the UC Davis blog. Original Article
---
When you think about college academics, you probably think of taking notes in a classroom, cramming in the main library or working on a project in a lab, museum, creative space or another campus facility. But some universities offer research and learning beyond the main campus that helps students gain real-world career skills as they make the most of their college experience.
UC Davis encourages students to seek opportunities outside of campus through internships, study abroad programs, experiential learning in Washington D.C. and more. Away-from-Davis locations include a Sacramento campus with a level 1 medical trauma center and the Aggie Square innovation hub, now under development. UC Davis also has research centers at Bodega Bay, Napa Valley and Lake Tahoe, and our professors lead amazing projects around California and the world.
Here to discuss their beyond-campus experiences are three undergrads who found valuable insight … offsite.
Jacqueline and the Tide Pool Rock
You'll never know how far you'll go until you try! I arrived at the Bodega Marine Laboratory (BML) as a budding scientist and came out of it as a well-rounded researcher, eager to build bridges between science and people.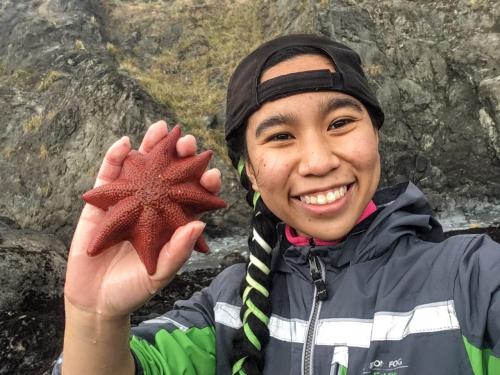 Being physically at the lab on the beautiful cliffs above Bodega Bay allowed me to work alongside a community of BML researchers who are invested in the creative process of scientific exploration and the challenge of communicating science to different audiences. Talking to people helped me gain insight into career options in marine science. It also led to fun volleyball games and unforgettable bouts of laughter in the BML dining hall. 
The classes I took (EVE 114 and BIS 124) were centered around mentorship and student-led research. My research partner and I decided to do experiments that involved trekking into the tidepools at 5:30 a.m. and setting up tanks in the lab with painted snails. Sometimes, it felt like trying to navigate through a dark forest with a flashlight. But at every challenge and roadblock, the teaching assistants and professors were there to guide us. At one point, I lost a rock the size of a dog. Was I able to finish analyzing all my data without it? Yes! Do I still miss that rock? Also yes!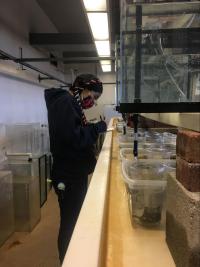 Imposter syndrome made it hard to believe I could ever thrive in these spaces. The opportunity to conduct my own project in a supportive environment helped me prove to myself that I do have the capacity and ability to do research. I learned that I have art and public speaking skills that enrich my scientific process. I also learned which aspects of the process I do not like and which parts I want to pursue. I found that communicating science and making it accessible to communities are two very meaningful goals that I would like to integrate into the work I do moving forward.
My journey of discovery at BML helped me grow as a scientist and a storyteller. It was one I gladly took on with a fantastic support network that included my peers, professors, graduate students, lab technicians and other amazing staff members.
-Jacqueline Rajerison
 

Tahoe Environmental Research Center
Our other research center on the water — at beautiful Lake Tahoe!
Sergio and the Camping — Uh, We Mean Research — Trip
I have been involved with the Valley Water research project assisting with field and lab work. The research group is led by professors Holly Oldroyd and Alexander Forrest, and this project is focused on measuring and mapping the methane gas distribution of water reservoirs.  
In the field, we measured the methane and carbon dioxide emissions over a 24 hour period at the Uvas reservoir. The team did this monthly and was essentially a productive camping trip. I really enjoyed the field work since it was a nice escape from classes, and I got to work closely with graduate students. Not only did we discuss graduate school, we also had a good time and enjoyed being outdoors.
The lab work was more independent. The graduate student I worked with assigned tasks, and I would check in with her on the progress. I really enjoyed this type of work since I loved the independence and working in the lab.
I also joined weekly meetings where the team would check in with each other and report on progress, and even conduct literature reviews. It was great to see the inner workings of a collaborative research effort.
My experiences with the Valley Water research group allowed me to develop close connections with the professors and graduate students involved. This influenced my decision to pursue graduate school, and I hope that I am able to join another research group as great as this one.
-Sergio Jimenez

Where is UC Davis?
Learn more about UCD's location, our off-campus spots and the region we call home.
Kaitlin and the Immigration Law Program
I got involved with the Immigrant, Refugees and Human Rights program at Aggie Square during my junior year after being referred by one of my favorite professors, Jeffrey Kahn. I was already pursuing those topics within my Spanish and International Relations majors. After calculating how many classes I had to take my senior year, I figured out that I had time to participate in the Quarter at Aggie Square program!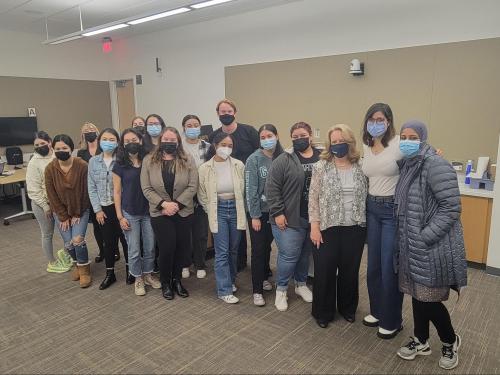 There were only 14 people in my cohort, so I really got to know other people who were interested in the same topics. Having a small group helped create a seminar environment for our classes and a collaborative learning experience. There was a lot more engagement than traditional lectures. It wasn't just a professor talking at us — we had to reach our own conclusions.
Once a week, a guest speaker presented their work and how it related to immigration. This gave us practical understanding of what we were learning and showed me all the different career paths available in immigration work. Ash Karla, the State Assembly member for San Jose, talked to us about his philosophy on immigration. It was my first time being in close proximity to a politician. We got to hear about the inner workings of state government which we had learned about in class, and it was absolutely amazing.
Quarter at Aggie Square also gave me a lot of outside-the-classroom experience. For my immigration internship, I was paired with the United States Citizenship and Immigration Services office in Sacramento, where I worked with a community outreach worker. I went to meetings and presentations with her to learn more about immigration law, and my fellow interns and I worked on a project answering questions about why people want to become citizens and how they go about the process.
Overall, Quarter at Aggie Square was one of my favorite undergraduate experiences. As someone who wants to work in immigration services, but isn't sure if they want to go to law school or work at a non-government organization (NGO), it gave me exposure to the careers of immigration lawyers and advocacy workers while also teaching me about the roles that both play in the broader arena of immigration work.
-​​Kaitlin Araghi
Primary Category