California is home to almost 11 million migrants, or about 27% of the state's population and 24% of the total immigrant population in the United States.[1] Although California is a sanctuary state, immigrants still confront challenges in adjusting to their new lives and communities also struggle to welcome newcomers and to provide avenues for full integration.
Who should take this experience?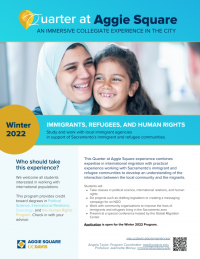 We welcome all students interested in working with international populations in California. This program will provide credit toward degrees in Political Science, International Relations, Sociology, Economics, and the Human Rights Program.
Offered Winter 2023
Applications now open,  Due by October 14.
This Quarter at Aggie Square experience combines expertise in international migration with hands-on experience working with immigrant and refugee communities to develop an understanding of the interaction between the local community and the migrants. Our goals are that you will
develop empathy for immigrants locally and globally
learn about state and local policy processes that affect immigrant reception
practice advocacy skills to improve outcomes for both immigrants and the host community. 
Projects such as drafting and presenting legislation and policy papers to state or civic leadership, or creating messaging for a fundraising campaign for an NGO, will help you prepare for careers in social services, policy analysis, state and local government, and the legal profession.  You will also develop inter-cultural skills which are essential for working and living in an interconnected world.     
Curriculum
FACULTY
Jeannette Money, Political Science

Mario Guerrero, 

Deputy Director, California Human Resources Department
COURSES
This experience offers courses Political Science (POL), International Relations (IRE), Sociology (SOC), and Human Rights (MHR).  
SOC 104 / IRE 104 International Migration (4 units)

The course introduces students to global patterns of both "forced" and "voluntary" migration, provides the theoretical frames for understanding human mobility, and explores the economic, social and political impacts of migration on both countries of destination and countries of origin.  This course will help students put U.S., California, and local migrants into a global perspective.  The issues raised by immigration in the United States are not unique; seeing how other countries confront similar issues provides new perspectives on functional and non-functional policies and outcomes. Taught by Jeannette Money.

POL 104 California State Government and Politics (4 units)

The course introduces students to the legislative policy process in the world's 5th largest economy.  International migration is one of many central policy issues in California as the state currently hosts 11 million immigrants, which comprise 27% of the state's population.  Sacramento is the seat of the state government and has also been designated at one of the nine U.S. reception centers for refugees.  The State of California has multiple administrative offices providing services to immigrants including Services for Refugees, Asylees and Trafficking Victims and the Office of Refugee Health (Department of Social Services), as well as the Office of Immigrant Assistance (Department of Justice).  There are numerous non-governmental organizations associated with immigrant services.  Those that focus on refugees include World Relief, Opening Doors, Inc., the International Rescue Committee, the Sacramento Food Bank and Family Services and the Refugee Council.  The current state budget for refugee activities stands at $51 million annually.  The federal government also has a field office of the U.S. Citizenship and Immigration Services (USCIS) located in Sacramento.  These venues provide students the opportunity to interact with policy makers, evaluate current policies, and design improved policies.  This course provides the background for students to understand how laws affecting migrants are developed at the state level and how those interact with federal laws.  Although this course will have a specific segment focused on migration issues, the policy processes are generic and allow the students to develop both knowledge and skills that transfer to other policy issues. Taught by Mario Guerrero.

IRE 192 Internship (3 units)

An internship  or service learning opportunity with a regional refugee resettlement center or immigration related organization.
Pol 198  Guest Speaker Series (2 units)
 
INTERNSHIPS
You will intern with a governmental or non-governmental organization, working with immigrants on a one-to-one basis, either in person or online. Possible internships in Winter 2022 include:
UC Davis Immigration Law Clinic
Refugee Programs Bureau, California Department of Health and Human Services
REDA: Refugee Enrichment and Development Association
MALDEF: Mexican American Legal Defense and Educational Fund
USCIS: United States Citizenship and Immigration Services
FUEL: Sacramento Family Unity, Education and Legal Network
SACACT: Sacramento Area Congregations Together
World Relief
As an example, World Relief is a refugee resettlement organization in Sacramento that trains students in the various activities that help refugees get settled into the Sacramento community:  finding housing, generating donations of household goods and installing them in the housing, greeting newcomers at the airport and transporting them, providing job training and connecting immigrants to local employers, working with refugee women to help them find new roles in California society, providing immigrant children with club activities to help with language acquisition, school work and recreational activities, legal support and access to naturalization procedures, etc.  
COMMUNITY PARTNERS AND ENGAGEMENT OPPORTUNITIES
The Global Migration Center (GMC) will organize a poster session and undergraduate conference for students to present products from the Quarter at Aggie Square.  The conference and the products will be widely publicized through the GMC website, which will provide a permanent location for students to post media presentations, draft legislation and policy papers.   
---
[1] Public Policy Institute of California, "Just the Facts:  Immigrants in California."  PPIC <ppic.org>, accessed 18 June 2020.