Quarter at Aggie Square: Innovation Hub Kicks Off with Undergraduate Courses
Quick Summary
UC Davis' Sacramento educational and research facility Aggie Square launches its first quarter of undergraduate classes
Eleven third-year biomedical engineering UC Davis students were welcomed into the inaugural Biomedical Engineering in Sacramento experience offered through the Quarter at Aggie Square (QAS) Program this fall by Diana Farmer, chair of the surgery department, and Allison Brashear, Dean of the School of Medicine, two of the champions of the collaboration with UC Davis, Aggie Square and the Medical Center. The QAS program is an immersive academic experience program that brings UC Davis undergraduate students to Sacramento to benefit from learning at the health campus and surrounding area.
BME's Quarter at Aggie Square experience, which is one of the six current experiences offered, was slated to start last year but was postponed due to the Covid-19 pandemic because the in-person experience is essential for practical application in the healthcare field. (Other experiences were able to meet online.)
This experience went forward this fall despite still not being able to offer in-person observation in the clinical settings this year. The program team, Dr. Aijun Wang, Dr. Scott Simon, Dr. Jennifer Choi from UC Davis' biomedical engineering (BME) department and Dr. James Kovach (UCD Medical) thoughtfully curated an experience that provides the students the opportunity to absorb what they are learning and consider options for the future. For example, in professor Scott Simon's clinical physiology course students have had hands-on experience in the Simulation Center where they learned how to interpret irregular heart rhythm using electrocardiography or EKG.
This program has also served as an opportunity for the faculty from the medical campus to discuss their practice specialty with the BME undergrads and expose them to the first hand clinical unmet needs. Aijun Wang states that "The connections we are building could serve these students well for the summer immersion program as well as the senior design program next year. These students could also serve as team leaders for others who are not in the program this year for the summer internship or senior design projects."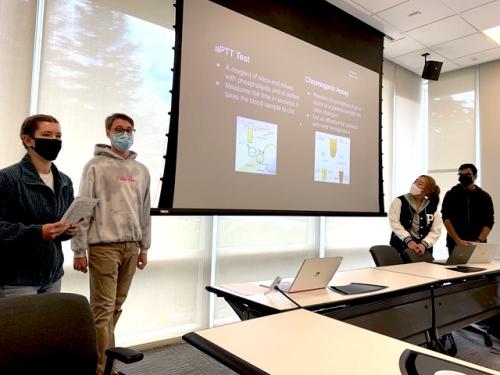 Collaborative projects and communication skills are a vital part of the curriculum, and students present their research through oral presentations. A recent set of presentations in one Quarter at Aggie Square course, taught by Aijun Wang, professor of surgery and biomedical engineering, covered topics including new directions in nerve cell repair, improvements in kidney dialysis, and cardiovascular health. 
One of the students, Namrata Elamaran, reflected that "she wants to make a difference in the field" and is inspired to find solutions even more so because of what she has experienced so far. 
ABOUT QUARTER AT AGGIE SQUARE and AGGIE SQUARE
Currently taught at UC Davis' Sacramento medical campus, the program is an early and interdisciplinary offering of the larger Aggie Square initiative which plans to bring together education and industry for innovation connecting UC Davis and the Sacramento community. Faculty can propose themes for each quarter, in which a cohort of up to 25 students take classes, intern and engage with the community.
Angela Taylor, a program lead for QAS, says that Quarter at Aggie Square has renewed professors' enthusiasm for teaching as well as providing undergraduates with solid professional connections along with academic knowledge. 

"Undergraduates have the opportunity to learn beyond the standard curriculum through the correlated classes, exposure to industry and engagement with the community. They gain a deeper understanding of the subject matter, how it applies to their lives and to society. In addition, the students build deep connections with their peers, the faculty, and industry partners." Professors know the undergraduate students by name who participate in Quarter at Aggie Square, due to the small cohort structure of the program, and this provides a unique opportunity to build relationships. 
Overall, connections between the university's programs and the surrounding communities at Aggie Square will happen both through student research and volunteerism and through intentional hiring and purchasing from within the Sacramento urban community. According to John Marx, faculty advisor to the provost, large institutions like UC Davis have choices about who they hire, who they buy from, and how they collaborate with external partners that dictate where their economic and social impact is most felt." Perhaps some of the students who take part in this quarter of study will choose to work and build their careers serving the Sacramento community as well. 
Taylor underscores how much the students appreciate the chance to participate in Quarter at Aggie Square. Despite the early morning bus commute from UC Davis campus across the causeway and West Sacramento into the heart of the medical center; "They consistently say that this is the best quarter of their academic experience!"
Angela Taylor and Sharon Campbell Knox contributed to this story.