10 students, 1 quarter, 2 inventions
Quarter at Aggie Square immerses students in real-life application of technological solutions
Quick Summary
Last fall's Quarter at Aggie Square Biomedical Engineering at the Health Campus Experience cohort developed two innovations.
Not long after Quarter at Aggie Square launched in fall 2020, students quickly found success through the immersive, undergraduate academic experience. Some participants were admitted to prestigious graduate programs and others earned competitive internship opportunities. This year, one team of undergraduates found success by creating not one, but two innovations as a result of their Experience last fall.
Ten of the 11 students from the Biomedical Engineering at the Health Campus Experience didn't stop there. They went on to enter their two medical innovations in the 2023 Big Bang! Business Competition. Both ventures, BioChem ML and Square Solutions, made it to the finals. Square Solutions, which is a design for safe transportation for cell therapies, received the $10,000 Human Health + Industry Sector Award – a fitting category for a team focused on the intersection between engineering and medicine.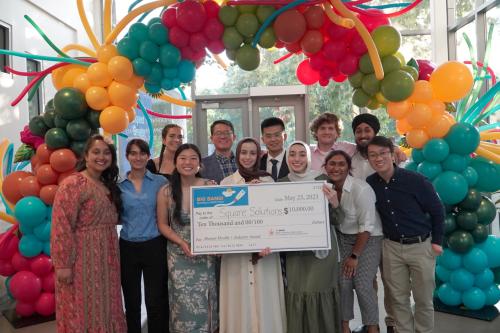 "This is the biggest recognition we've seen in terms of how many students were involved," said Angela Taylor, who currently leads Quarter at Aggie Square, or QAS. 
Quarter at Aggie Square Experiences bring small cohorts  of students together for a full quarter in Sacramento for interdisciplinary coursework, study, internship and community engagement.
"Quarter at Aggie Square is that type of program that transcends an educational experience," said Michael Bradford, vice provost and dean for Undergraduate Education. "Whether the focus is on environmental challenges, refugee issues or medical innovation, students who participate in QAS find solutions while working with the community to build a better tomorrow."
As director of experiential learning and site-based programs for Undergraduate Education, Taylor is an expert in co-curricular programs that include internships. Yet, the accomplishments of last fall's team are remarkable for many reasons, she said.
"These are students who not only enjoyed the actual experience, sense of belonging and community; they continued to work together for the entire academic year, with one of their faculty members," Taylor said. "That in and of itself speaks to the satisfaction of the students and faculty."
The students, their teaching assistant, biomedical engineering doctoral candidate Yongheng Wang and their professor, Aijun Wang, continued to work on their innovations in Wang's lab for the rest of the academic year, after the fall quarter ended.
"The experience enables us to seamlessly merge the conventional engineering classroom with the operating room at UC Davis Medical Center," explained Wang. "Last year marked a significant milestone as it was the first year when the whole program was conducted in person, which allowed this group of students to be the first ones in this program to enter the operating room to witness surgeries firsthand and experience the whole system in person."
Real life application
Quarter at Aggie Square provides undergraduate students opportunities to study and learn across the causeway in Sacramento. The academic program is a part of Aggie Square, the planned innovation hub on the UC Davis Sacramento campus in development now, to create new opportunities for research and public service.
The goals are simple, Taylor said — develop future global leaders and changemakers.
The Experiences earned their names because they are designed to let students "see the gaps" in real situations.
"There is a direct application to what they are learning in the classroom and seeing how that pairs to current problems needing solutions," Taylor said.
Getting the biomedical engineering students in the operating rooms at UC Davis Medical Center provided that critical link.
"For students in the early stage of their curriculum, experiencing the real-life medical environment not only stimulates their thinking but also empowers them to recognize their immense potential, generating a potent surge of energy in learning and exploring," Wang said.
Sophie Bloyd, one of the 10 students, said the experience provided her with that lightbulb experience she was waiting for.
"This was the moment it all clicked for me – it all came together," Bloyd said. "I am more than just a student. I am engineer. I can solve these problems."
About the innovative ventures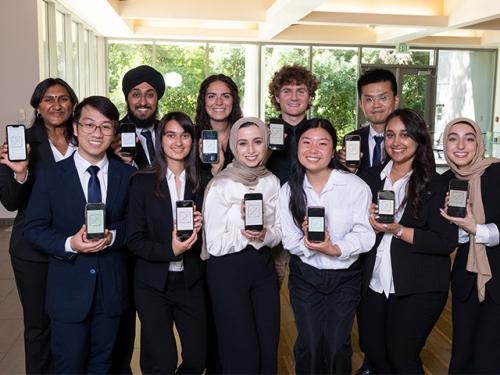 Square Solutions develops a portable cell incubator for researchers, clinics and pharmaceutical companies that allows for safe transportation of cell therapies from the manufacturing site to the bed side. The BioChem ML designs a drug screening imaging system driven by machine learning and artificial intelligence technology that  provides pharmaceutical companies, researchers and other health care professionals a more efficient way to evaluate the anticancer drug efficacy.
The Square Solutions team was recently featured on The Mark Haney Show, a business leadership radio show, podcast and YouTube show focused on igniting the entrepreneurial revolution in Sacramento. Watch Innovation Unleashed at the Big Bang! Business Competition: UC Davis Startups Triumph to see the biomedical engineering students discuss the project.
QAS Experiences
Both Taylor and Wang agree this student group inspires them to continue refining the immersive Experiences to continue to tap into undergraduate students' potential.
"The program appears to have had a transformative effect on the students, particularly those who were initially reserved," Wang said. "In fact, these students really stand out and exemplify limitless potential. Witnessing the extent of their capabilities, we can only imagine the incredible heights they are capable of reaching once their full potential is unleashed."
Taylor added, "Now, we sustain this and continue to grow it."
Learn more at the various Experiences at the Quarter at Aggie Square website. Find resources there to apply, propose a new experience or ask questions.
Primary Category
Secondary Categories
Tags