Who should take this experience?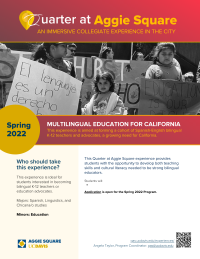 This experience is ideal for students interested in becoming bilingual K-12 teachers or education advocates.
Majors: Spanish, Linguistics, and Chicana/o studies
Minors: Education
Offered Spring 2022 ​
Applications due January 14, 2022
This experience is aimed at forming a cohort of Spanish-English bilingual K-12 teachers and advocates, a growing need in California as we embark on Global California 2030, a State Department of Education initiative which calls for half of all K-12 students to participate in programs leading to proficiency in two or more languages by 2030.
The curriculum offers courses in education and Latinx language and culture, and internship hours at the Language Academy of Sacramento. The rich urban landscape around Aggie Square will give students the unique opportunity to engage with Sacramento's community organizations, nonprofits, and government entities dedicated to this cause. Learn More.
The Curriculum
FACULTY
COURSES
SPA 118 Spanish for Education (4 units)
This adapted "topics" course has two parallel objectives. First, it will provide an overview of the grammar of Spanish as spoken in the U.S. Second, it will equip students with the skills necessary to create linguistic products commonly found in the education field, such as letters to the parents, lesson plans, presentations, and translations. The course will provide students with opportunities to develop the written and oral language Spanish skills needed to become effective teachers in a bilingual setting or in working with bilingual communities, and will include guest speakers from the LAS teaching staff. Taught by Agustina Carando.
EDU 198 Introduction to Latin American Culture (Group Study) (4 units)
This introduction to history, geography and culture of Latin America addresses multiple genres of cultural production and representation, with a focus on cultural diversity and regional differences. At Aggie Square, the course is specially focused on preparing students for the Area V of the Spanish language California Subject Examination for Teachers (CSET) required for a bilingual authorization. This course will be submitted to the California Commission on Teacher Credentialing to be considered as a waiver for the CSET V test. It will be taught by Orlando Carreón, who currently provides CSET V training for our Teacher Ed program, or a Spanish and Portuguese lecturer with a similar background.
EDU 121 Introduction to Education Policy Analysis: Tools, Methods and Frameworks (4 units)
This introduction to the field of education policy analysis is adapted from its original focus on the quantitative and economics roots policy to include the sociopolitical and sociocultural aspects that impact policy development, and the effects of language policies on educational communities. We will invite speakers from the California Latino Legislative Caucus to discuss specific upcoming legislative bills impacting education, as well as attorneys from the Legislative Counsel of California to discuss various tools and frameworks used in drafting policy. Taught by Margarita Jiménez-Silva.
EDU 100 Introduction to Schools (4 units)
This course will cover the occupational concerns of teachers; skills for observing classroom activities; school organization and finance; school reform movement; and observing, aiding, and tutoring in schools. It will include an internship component, where students will spend 30 observation hours at the LAS, as well as field trips to other bilingual programs in the area. This course will be co-taught by a current LAS classroom teacher with a Master's degree and a UC Davis faculty member. 
INTERNSHIP
Students will spend 30 observation hours at the Language Academy of Sacramento, a dual-immersion school located at the heart of Aggie Square, and take field trips to other bilingual programs in the area.
Learn More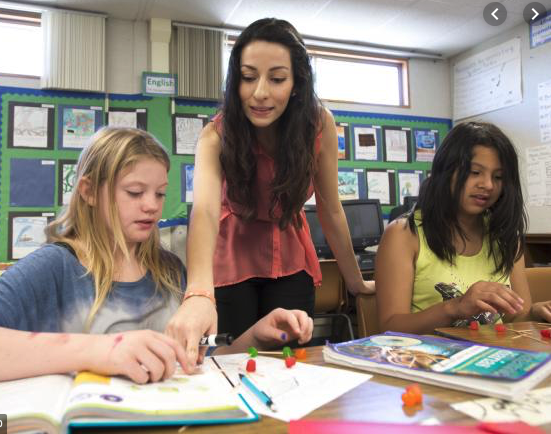 Approximately 20% of the U.S. population speak a language other than English at home. Most are heritage speakers who learned the language at home and attain different degrees of bilingualism across their lifespan. Research shows that proficiency in the language diminishes rapidly and practically disappears by the third generation, leading to a decline in the use of heritage languages over time. Language exposure in school at a young age could increase the chance that a child will maintain the language, but the public school system offers very few opportunities to practice languages other than English, and there is often a shortage of qualified bilingual teachers. 
In September 2018, California's State Department of Education launched a new initiative: Global California 2030, which calls for half of all K-12 students to participate in programs leading to proficiency in two or more languages by 2030. Spanish is the most spoken language after English, accounting for 13 % of the U.S. population and almost 30 percent in California. Because of this high proportion of speakers, the state is in a privileged position to lead the nation in nurturing and promoting Spanish, particularly particularly since the passage of Proposition 58 in 2016 repealed two decades of bilingual education restrictions. 
Header Image: ©David Bacon. All Rights Reserved. Photo used by contract with photographer and may not be used for other purposes.