Unseen Heroes
By Kyerah Kyles '22
With Aggie Square making its home in Oak Park, an important part of Transformative Justice Studies is learning the neighborhood's history and understanding the conditions shaping its future.
Oak Park has long been home to historically marginalized communities, creating a misconception that it is not the best area, and stigmatizing the people who live here. Historical redlining means most longtime residents have been unable to buy their homes. At the same time, Oak Park has been experiencing gentrification for the past few years, seeing a rise in home market values and the leaving of longtime residents as rents become unaffordable. These forces of stigmatization, economic neglect, and gentrification have been hard on the community.
One couple that is hoping to change this are Maritza and Roshaun Davis of Unseen Heroes. 
From Warehouse to Vibrant Space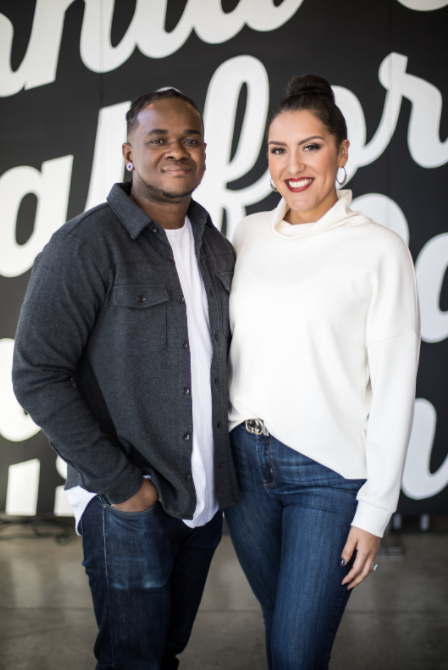 Together, the two have created a space that is specifically designed for the residents of Oak Park. By listening to the demands of the residents and considering the pull factors of other cities, Maritza and Roshaun took an empty warehouse and transformed it into something that represents their love for the city. They have created a rotating retail environment in which there is a different concept every four to eight weeks, ranging from a pop up wedding chapel to a small grocery store.
Our goal is to show love to our city by creating vibrant third spaces that stimulate economic development for local businesses, entrepreneurs, designers, artists, makers, farmers, and chefs. All the while providing an unforgettable experience for the attendee.
By taking on this role and proclaiming themselves as unseen heroes, Maritza and Roshaun are able to bring different elements like the arts, food, retail, education, and music back to Oak Park and its residents after it has been ignored for so long. Their intentions are to invest in the community without contributing to the displacement of longtime residents. They are aware of the residents and their market audience, which is why they are conscious of the vendors they work with. For them this means being able to say no to those that do not resemble the character of the area and offering a space to the local entrepreneurs. It is this consideration that allows for people to come together and enjoy the experience, regardless of age, sex, or ethnicity. 
It is work like this that I personally like to hear and talk about because as a community regional development and African American and African studies double major, the concept of community is important to me. Having them as guest speakers in our Culture and Diversity in the Sociopolitical Context (EDU 150) class taught by Professor Maisha Winn was an inspiring experience because they represent what I want to achieve, which is bridging community gaps and working to make an area feel like home. The larger Aggie Square Initiative in which the Quarter at Aggie Square Transformative Justice Studies experience is a part of is bringing together university, industry and community. I am  glad to be learning what is happening and what is possible. 
Primary Category
Tags