Transformative Justice Studies in Sacramento: Dreaming. Designing. Doing.
Who should take this experience?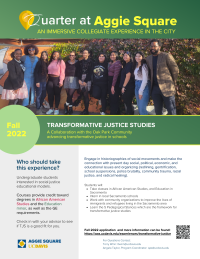 Undergraduate students interested in social justice educational models. Courses provide credit toward degrees in African American Studies, Chicano Studies, and the Education minor.
Offered Winter 2024
INTRODUCTION
In an integrated, holistic, transformative, and restorative learning experience, students will spend a quarter at Aggie Square in Sacramento. They will bridge research and learning to practice and opportunities; become socio-culturally aware; and acquire skills that will support them as active citizens and change-makers in a fast-evolving, interconnected world. Students will collaborate with local nonprofits, schools, and organizations located in Sacramento. 
Histories Matter – Race Matters – Justice Matters – Language Matters – Futures Matter
A message from the faculty: "In keeping with the tradition of community-based educational models, we are leveraging our scholarship and local partnerships to facilitate opportunities for undergraduates to engage in historiographies of social movements and make the connection with present day social, political, economic, and educational issues and organizing (redlining, gentrification, school suspensions, police brutality, community trauma, racial justice, and radical healing)." 
~ Professors,Torry Winn and Maisha Winn. Learn more.
The Curriculum
FACULTY
Lawrence T. Winn, Associate Professor of Teaching in Education, Co-Director of Transformative Justice in Education Center, UC Davis School of Education
Maisha T. Winn, Professor, Chancellor's Leadership Professor, and Co-Director of Transformative Justice in Education Center, UC Davis School of Education
COURSES
EDU 150 Culture and Diversity in the Sociopolitical Context (4 Units)
This popular class in the education minor will support undergraduate students in engaging in future-oriented justice projects with communities through a reimagining. Taught by Lawrence Winn.
AAS 130 Education in the African-American Community (4 units)
This course examines the history of the education of African Americans in the United States, as well as a critique of contemporary theories concerning the schooling of African Americans. Taught by Lawrence Torry Winn.
EDU 198 (Seminar) The Application of 5 Pedagogical Stances (4 Units)
Students will meet each week with the professor and community leaders to discuss their internship experiences as they apply to the five pedagogies of Race Matters, Histories Matters, Justice Matters, Language Matters, and Future Matters. Part of this seminar is a research-action internship, in which the students work in collaborative teams of 5 at one of the partnering internship sites. Taught by Lawrence Torry Winn.
INTERNSHIPS
Students will work in teams of 4-5 at a local school, community-based organization, or business. 
Learn More
Historical Roots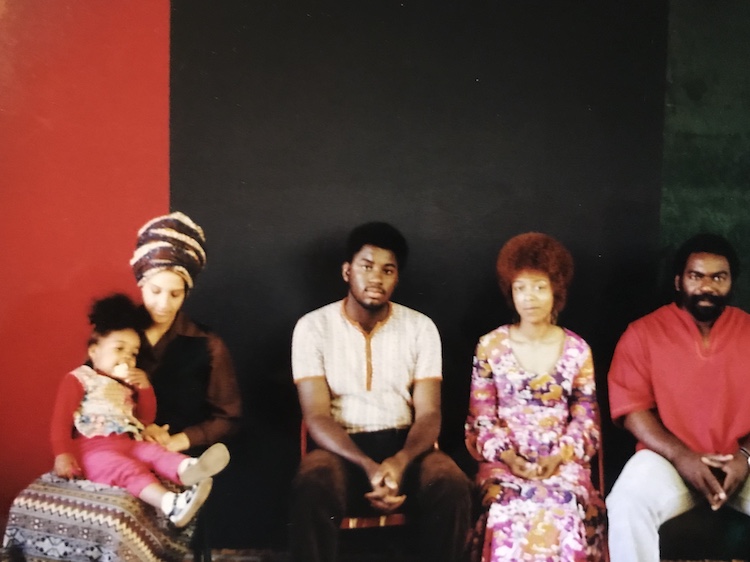 In the summer of 1969, Dr. James A. Fisher and several Sacramento City College professors embarked on a journey to bridge college students and residents in Sacramento's Oak Park neighborhood through a collaborative called the Oak Park School of Afro American Thought. Dr. Fisher was concerned about the lack of Black stories and experiences in traditional history classes. Course offerings such as "Ghetto Economics (Consumer Problems)" "Black Drama," and "History 15" were scheduled in the evening to accommodate local working residents as well as parents and those who were unable to pursue their degrees full time. He was later hired to teach "Black Studies" in UC Davis's History Department. 
Dr. Fisher and his wife Cheryl A. Fisher also founded Shule Jumamose, an African-centered Saturday School located in Oak Park. As a beacon of community-engaged scholarship, UC Davis students taught courses, mentored youth, and volunteered at the Shule Jumamose. The Fishers' daughter, Maisha Fisher Winn, is co-founder of the Transformative Justice in Education Center at UC Davis and co-developer of this Quarter at Aggie Square experience. 
The Transformative Justice in Education Center (TJE) is a community-university collaborative serving practitioners and researchers committed to disrupting racial inequities in education by creating restorative, humanizing, justice-seeking teaching and learning communities. Founded by Maisha and Laurence Winn, TJE provides an intellectual home for classroom teachers and/or restorative justice practitioners who are seeking ways to create and sustain a restorative culture in their teaching and learning communities; prepares teaching trainers and preservice teachers across content areas in restorative justice practices; supports undergraduate and graduate student researchers committed to humanizing research methodologies and approaches that seek to disrupt inequities in education; and provides technical assistance to universities committed to implementing and sustaining restorative justice practices on campus.